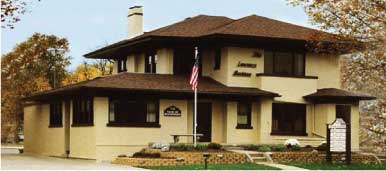 Estate Planning & Probate Law











The Lawyers Building
715 Court Street
Saginaw, MI 48602

Estate planning affords individuals with an opportunity to plan ahead, control their assets while alive, take care of loved ones if they become disabled, give their assets to whom they choose at the time they choose.  Furthermore, planning ahead enables individuals to save tax dollars, professional fees and court costs.
The probate process is available to those who require the supervision by the courts, whether it is distributing assets of an estate, contesting an estate, or becoming a guardian or conservator.  To someone who is unfamiliar with the process, the time and energy required in handling a matter through probate court can be overwhelming.  An attorney experienced in probate law can explain and often expedite the process for their clients.
Attorneys Mark Mahlberg and Donald Gilbert have received a Certificate of Completion for Probate and Estate Planning Program sponsored by the Institute for Continuing Legal Education and the State Bar of Michigan.  This Certificate is provided to attorneys who have completed at least 10 days of formal training in probate and estate planning.
We listen to the individual needs of clients to create a customized estate plan to meet their objectives.  Even if you have previously done some estate planning, it is a good idea to check with an attorney to make sure your estate plan is up to date with tax laws and regulations.  One aspect of trust administration that is often overlooked is trust funding.  Our legal support staff has assisted clients in funding over 300 trusts, often working directly with financial institutions to simplify and expedite the process.  In many instances, a client's trust can be funded in a matter of days.
We provide the following services: 
          •     Trusts and Trust Funding
          •     Special Needs and Disability Trusts
          •     Estate Settlement
          •     Retirement Planning
          •     Elder Law and Medicaid compliance
          •     Will Preparation
          •     Durable Powers of Attorney
          •     Health Care Powers of Attorney
          •     Guardianships and Conservatorships
          •     Probate proceedings including estates and will contests
          •     A complimentary review of your existing estate plan
Please contact:
          •     Mark T. Mahlberg
          •     Donald A. Gilbert